Shopping Basket
Your Basket is Empty
There was an error with PayPal
Click here to try again
Thank you for your business!
You should receive an order confirmation from Paypal shortly.
Exit Shopping Basket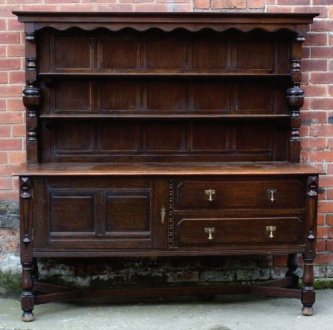 Well hi there. Its been another busy week and whenever I manage to get one or two things done off my list another 3 or 4 seem to add themselves on the end, I guess moving house is always like that and setting up a shop too just adds to it!
My little boy has been slightly run down this week so has missed some nursery in favour of cuddles and toy story! I wont tell you about the many chairs I have painted this week as frankly ,I dont think they`d interest you, but I am going to share a picture of a beautiful dresser I have bought to renovate. I am quite excited though it isnt being delivered for a couple of weeks!! Its always nice to really fallin in love with a piece and makes working on it much more fun! I love the feeling of history working on older pieces,occassionally even finding old signatures scratched on to wood or old documents in the back of drawers that have fallen down the back! I think it either excites you or it doesnt but to me its as exciting as looking at paintings in a gallery.Even Thomas hardy had a thing for the history of furniture so i`m not alone!!!
"I see the hands of the generations
That owned each shiny familiar thing
In play on its knobs and indentations,
And with its ancient fashioning"
(Thomas Hardy!)
I promise to put pictures on when its finished and let you see the after pics! Anyway I apologise for reciting poetry at you...it probably wont happen again for a few years!! No `ode to a wardrobe` coming soon hehe! Thanks for reading and do feel free to give your colour reccomendations for the dresser! XFiFi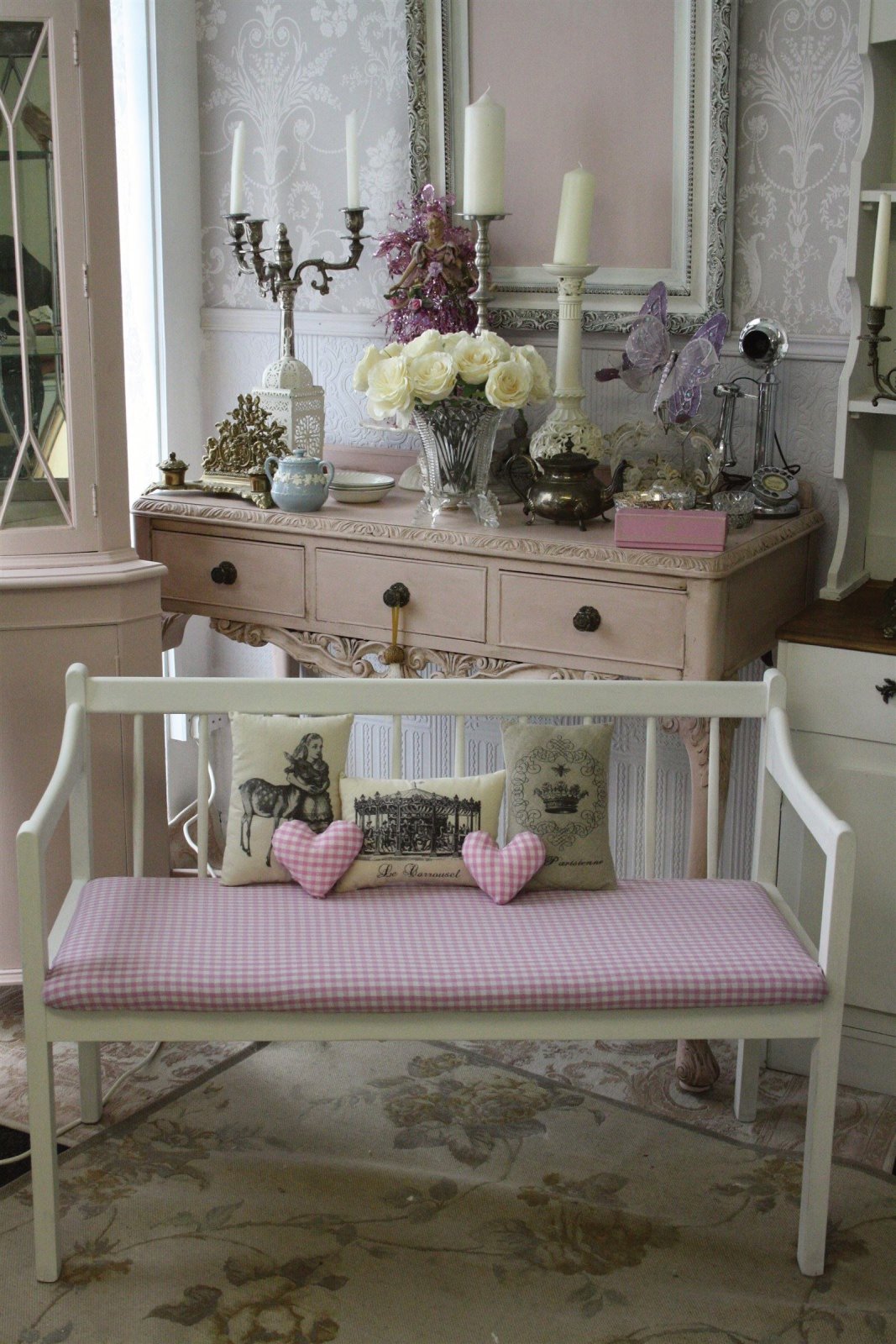 Well hello! I really must try and blog more often....I have been rather busy with renovations again but also I dont want to bore you with stories of what i`ve had for tea and complaints about my messy house if theres not much to blog about!..it is quite messy actually!!
I renovated a little bench today thats been sitting in my basement for far too long, it looks very sweet in pink gingham fabric and annie sloan `old white`chalk paint.I also (rather inexpertly)made some little hearts to go with it!! It would look lovely in my daughters room but I dont think we can fit anything else in there!! 
Its been a hectic start to the year and I dont want to jinx it...but I think things are finally starting to come together with life,house,business and yes i have finally managed to get my little boy off the dummies(actually we call them num nums!!). Theres still a reasonable(huge?) amount to do but its nice to finally see the hard work coming together and I have to say i`m feeling rather positive about the year ahead! I have a rather exciting new FiFiChic project that i`m just finalising so will hopefully be able to tell you more about that in march!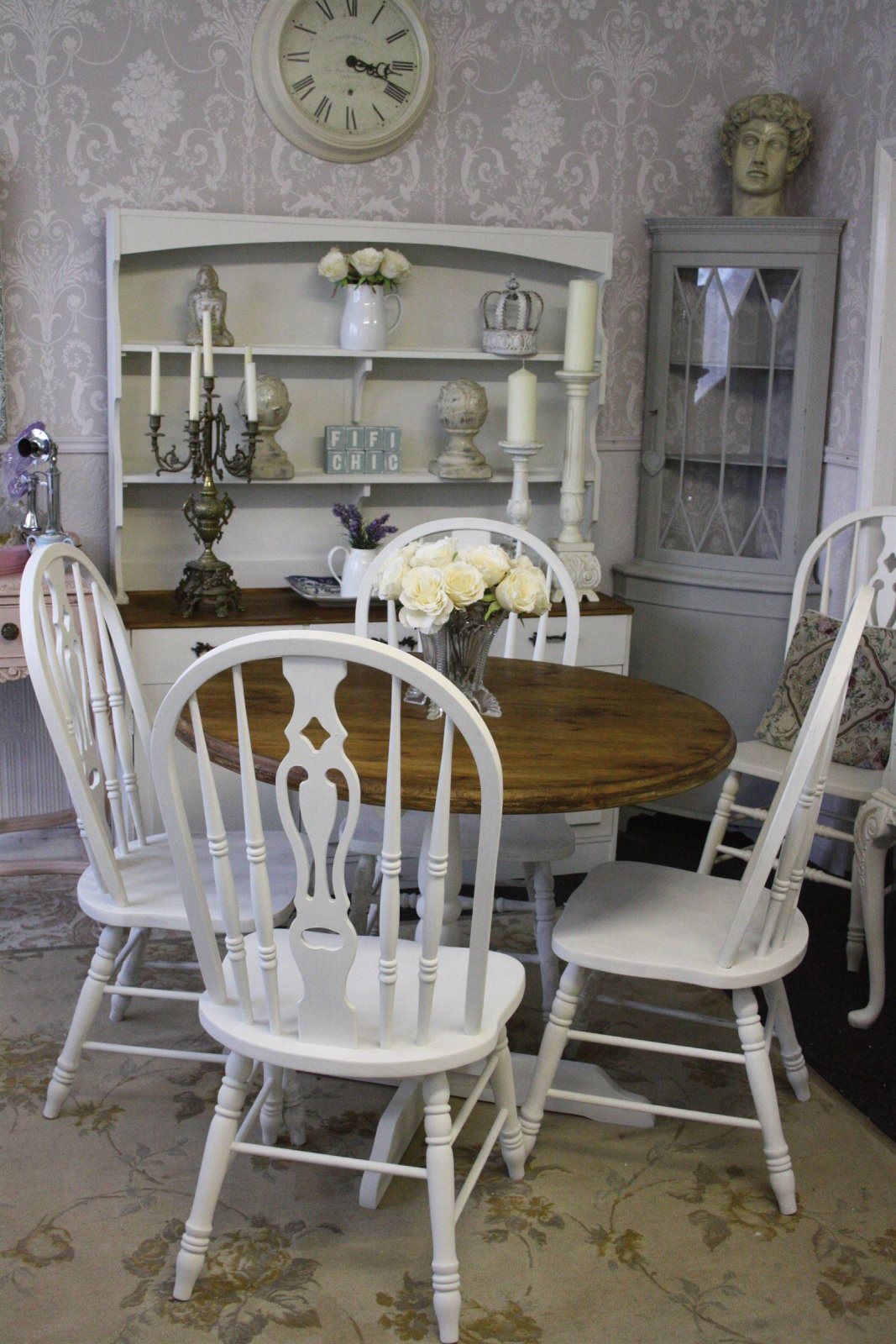 I have also finished a nice table and chair set today, the chairs are similar in style to windsor but are oversized ,so really comfortable, and with really high backs! i love this style! I stained the pine table to bring out its `rustic charm!`
Anyway i`m off to bed! Up early for the(now quite long!) school run!! Thanks for reading you`ve been a fantastic listener!XFiFi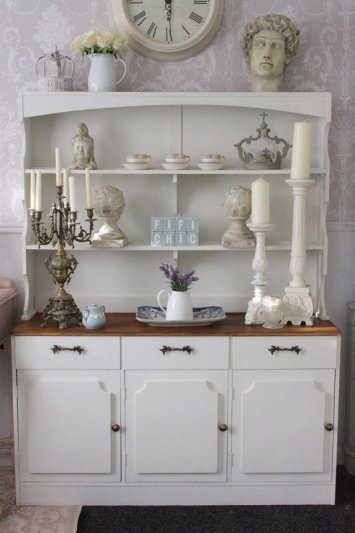 Hi there, its thursday and I have had a busy few days. I had hoped to spend more of half term taking it easy and doing day trips with my children but alas life just gets in the way!! I am still trying to get ahead with the shop and house so I have had to make do with the odd hour in the evening doing bedtime, books,cuddles and shrek! I have seen it far to many times now!
Anyway I have just finished another dresser renovation! I have done another white one as it works as such a good back drop for my tables!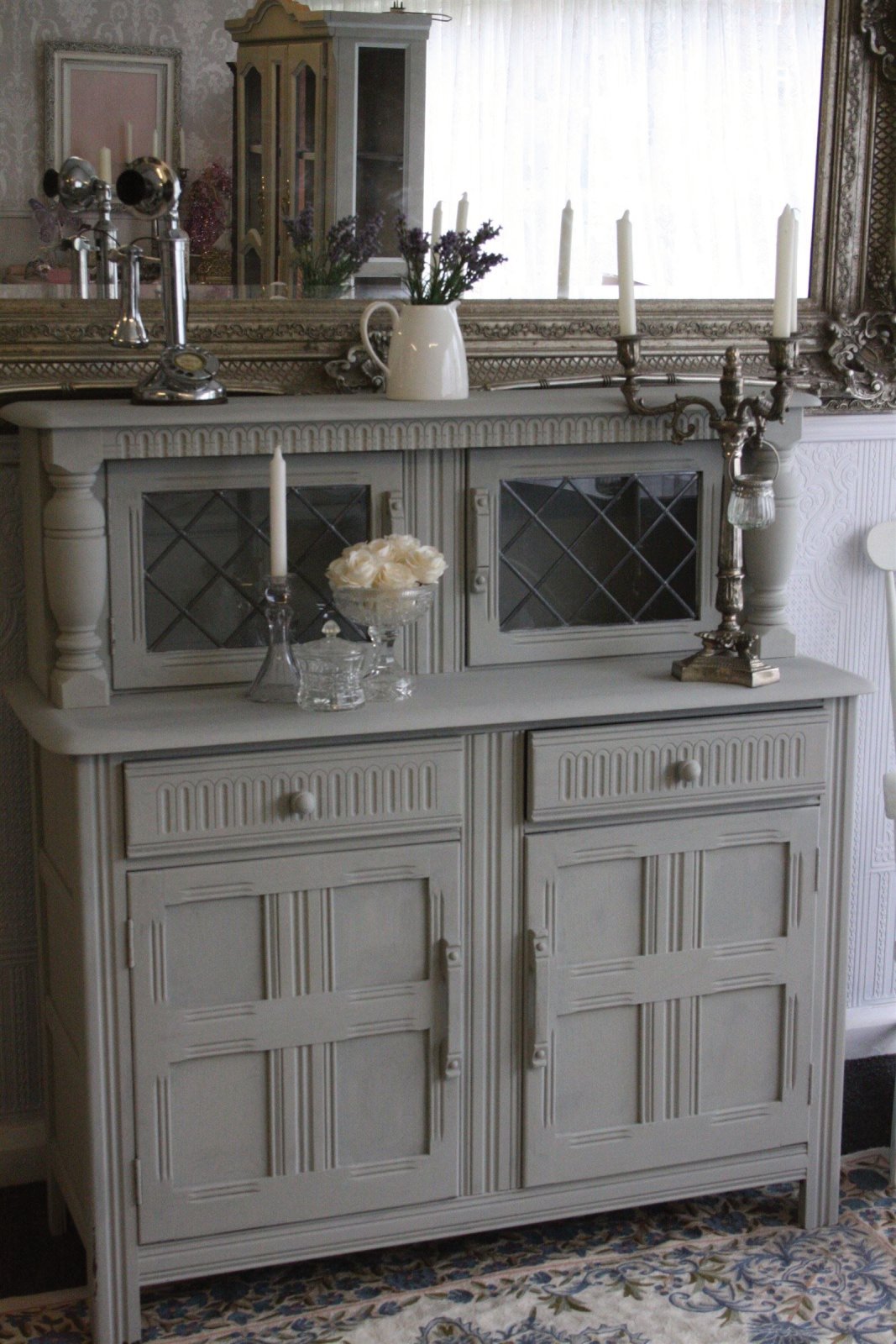 It was a horrible teak vintage dresser with ugly handles and just begging for a new lease of life...I`m sure someone will now love it again!! I changed the handles and knobs, sanded the old varnish off the top of the base and then stained with oak briwax and painted the rest in annie sloan chalk paint. I also renovated a lovely old court cupboard, i`m not sure if its priory or ercol but they are such great pieces of furniture, well made, ornately carved and very useful for storage!
Well I think thats all for now,thanks for reading,do feel free to leave comments (preferably nice ones!!) and see you again soon! xFiFi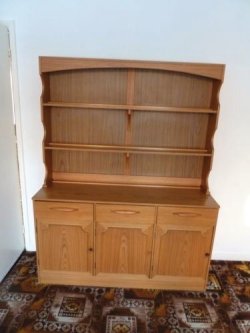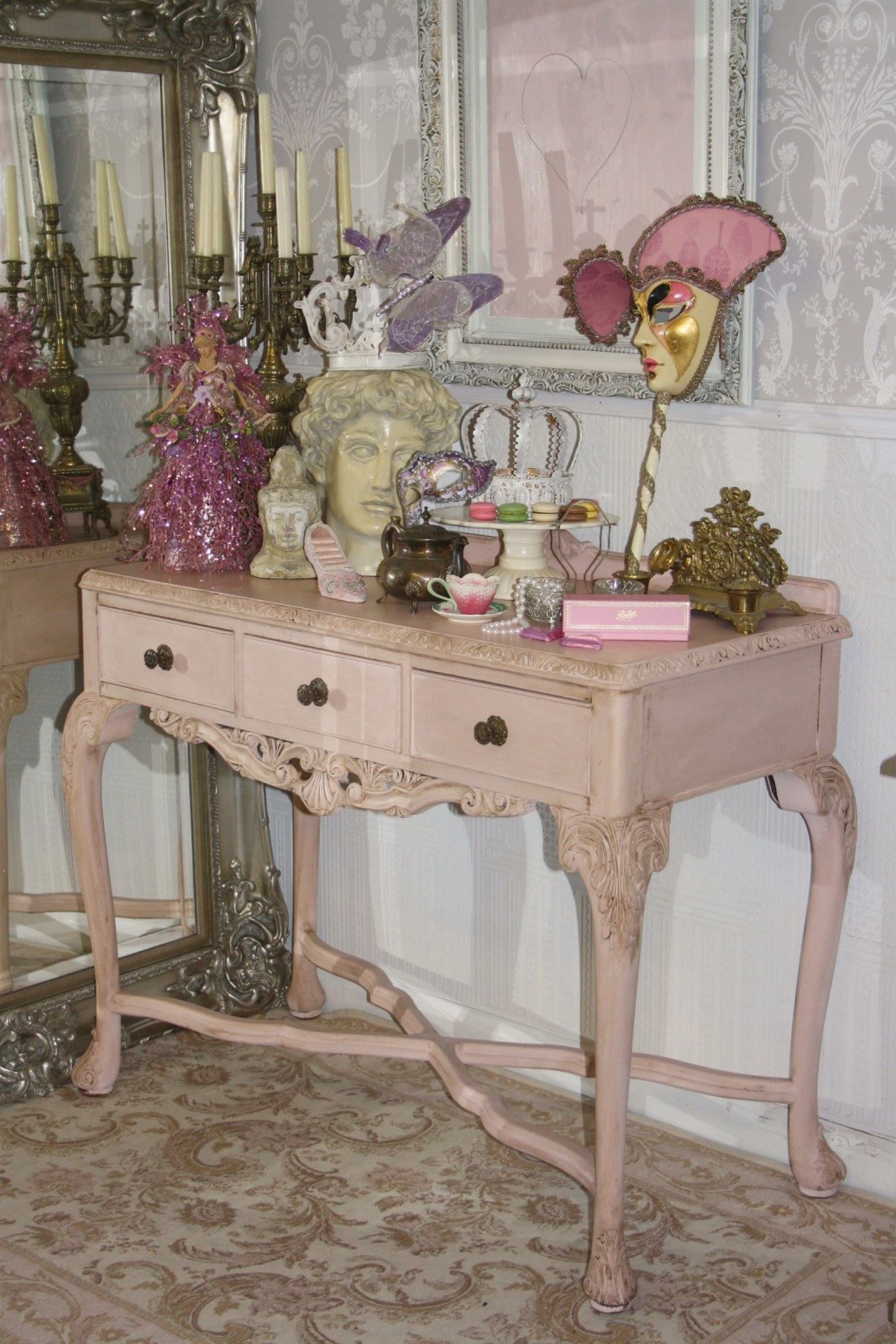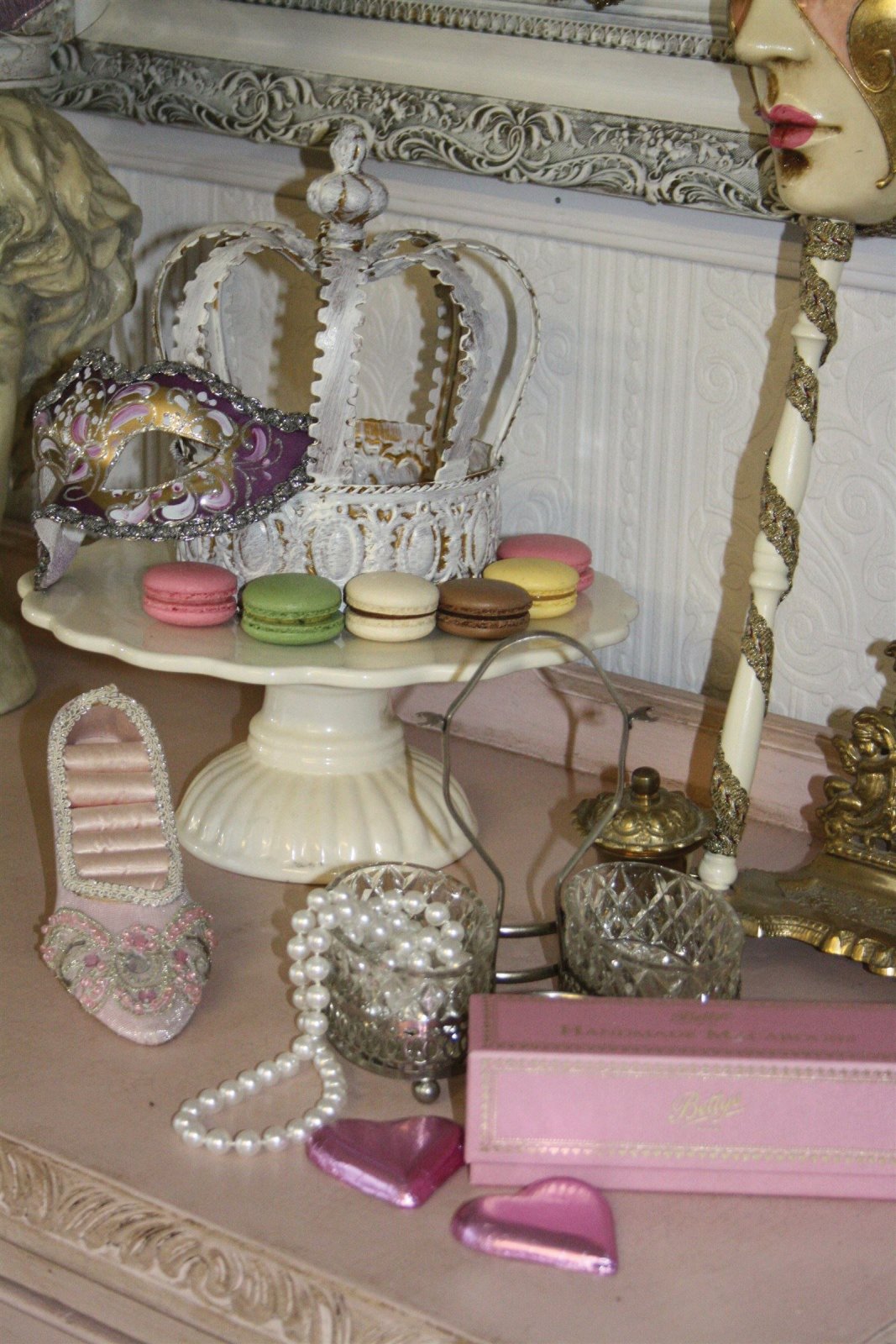 Well `Happy Valentines Day`!! Its been a busy day but a nice one too! I spent most of it working but my husband kept me company and lavished me with yummy lunch,teas and krispy kreme while I was painting so I really have to say a good day anyhow!! This morning my new annie sloan `Antoinette` paint arrived and so despite having an order to finish I just had to paint a beautiful buffet sideboard because it was too exciting to spend the day painting something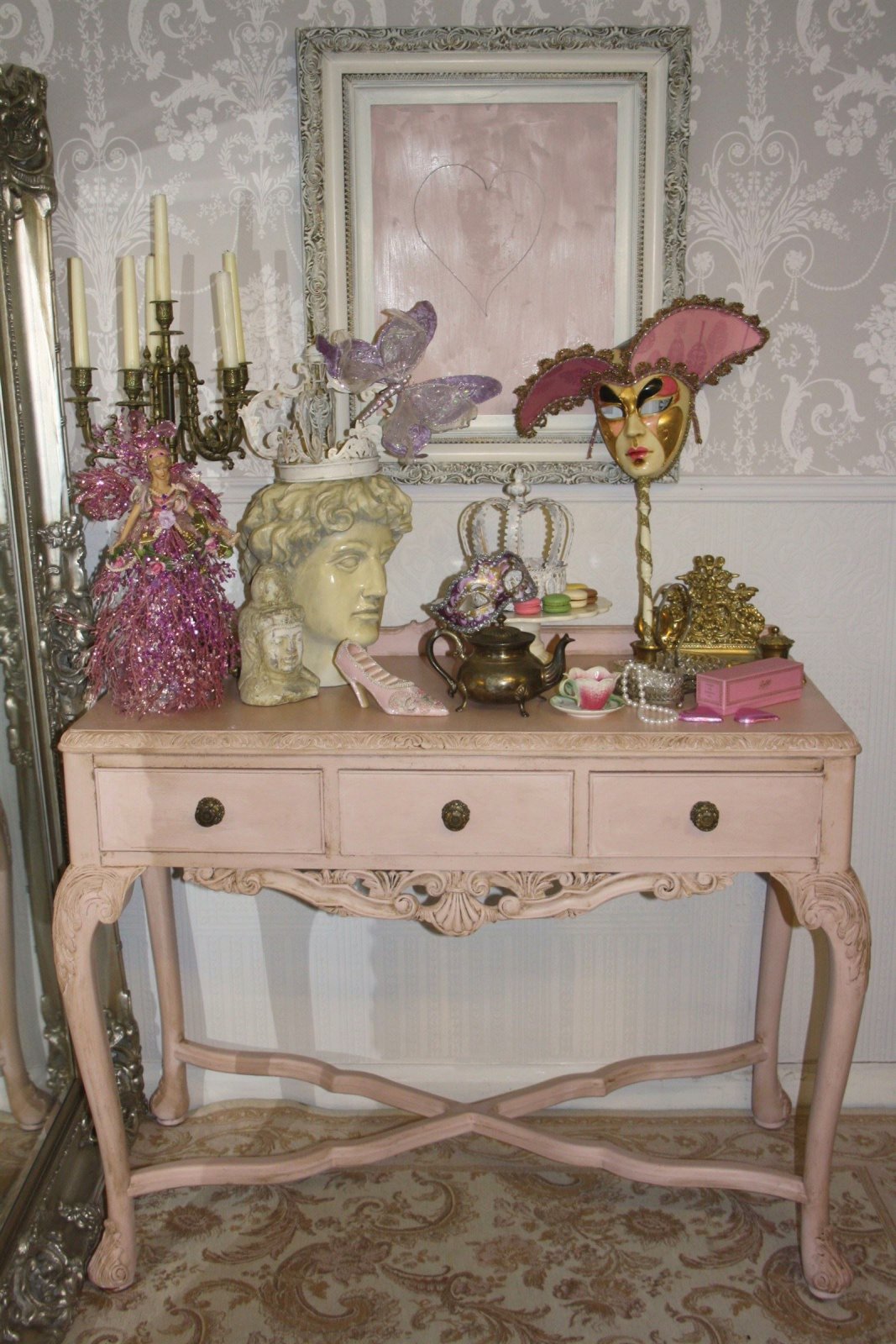 pink and trying out some new techniques!! After 2 coats of paint I used  craquelure for a fantastic aged effect before waxing with dark and clear wax to bring out the cracks and carvings! Great fun, I also lined the drawers in pink and white toile for extra pretty french flavour!! I love this piece, I bought it at auction about 8 years ago and would only have painted it in this colour as I knew it would look amazing!!! I had so much fun staging it for the pics! I have so many theatrical bits and pieces and so decided to embrace the name `Antoinette` and lavish the sideboard with pearls,brightly coloured macaroons,crowns,venetian masks,the head of `david`?? my daughters pink fairy from her christmas tree, a suitably large candelabra.... and anything else pretty to hand!! Subtle!!
I have some other lovely bits I`m quite excited about painting over the next few weeks and have you noticed i`m getting quite into the colours!! 
Anyway...am still painting...making up for the time I missed earlier when I was meant to be painting white chairs instead of pink things! So better go and finish! maybe time for a tea first! Hope you had a fab valentines day and thanks for reading...xFiFi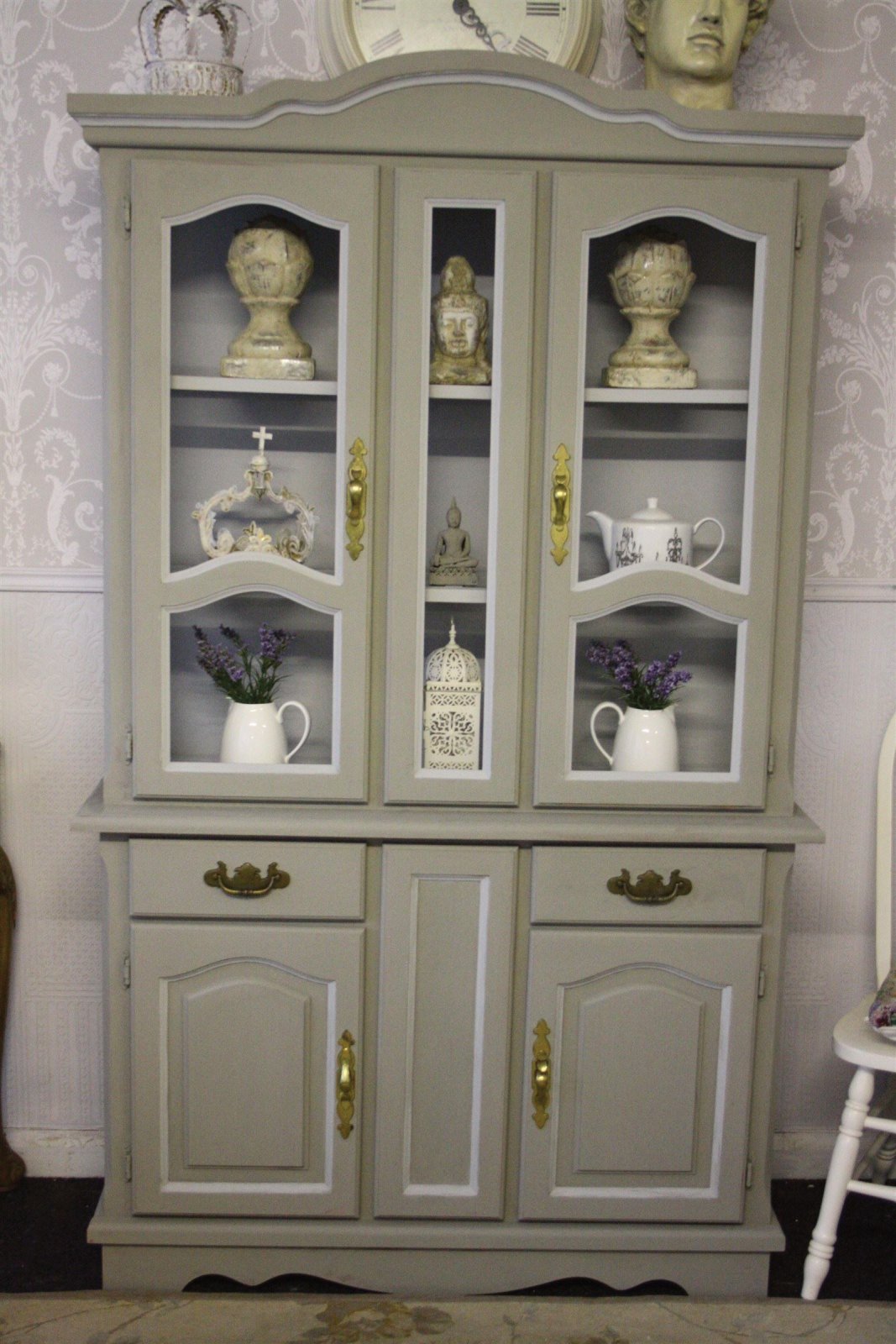 Well I cant believe its the weekend again and half term! Have so many projects to finish but am going to take monday off to spend with my daughter and have a girly day as she doesnt get to spend as much time with me on her own these days its just always so busy!
I went to Derbyshire earlier in the week to stock up on paint colours and annie sloans french linen was recommended to me which i have used on a french dresser. I used paris grey on the inside and also to edge some panels of it for definition and contrast. Its turned out really well! I do love the colour paris grey and have used it rather a lot this week!!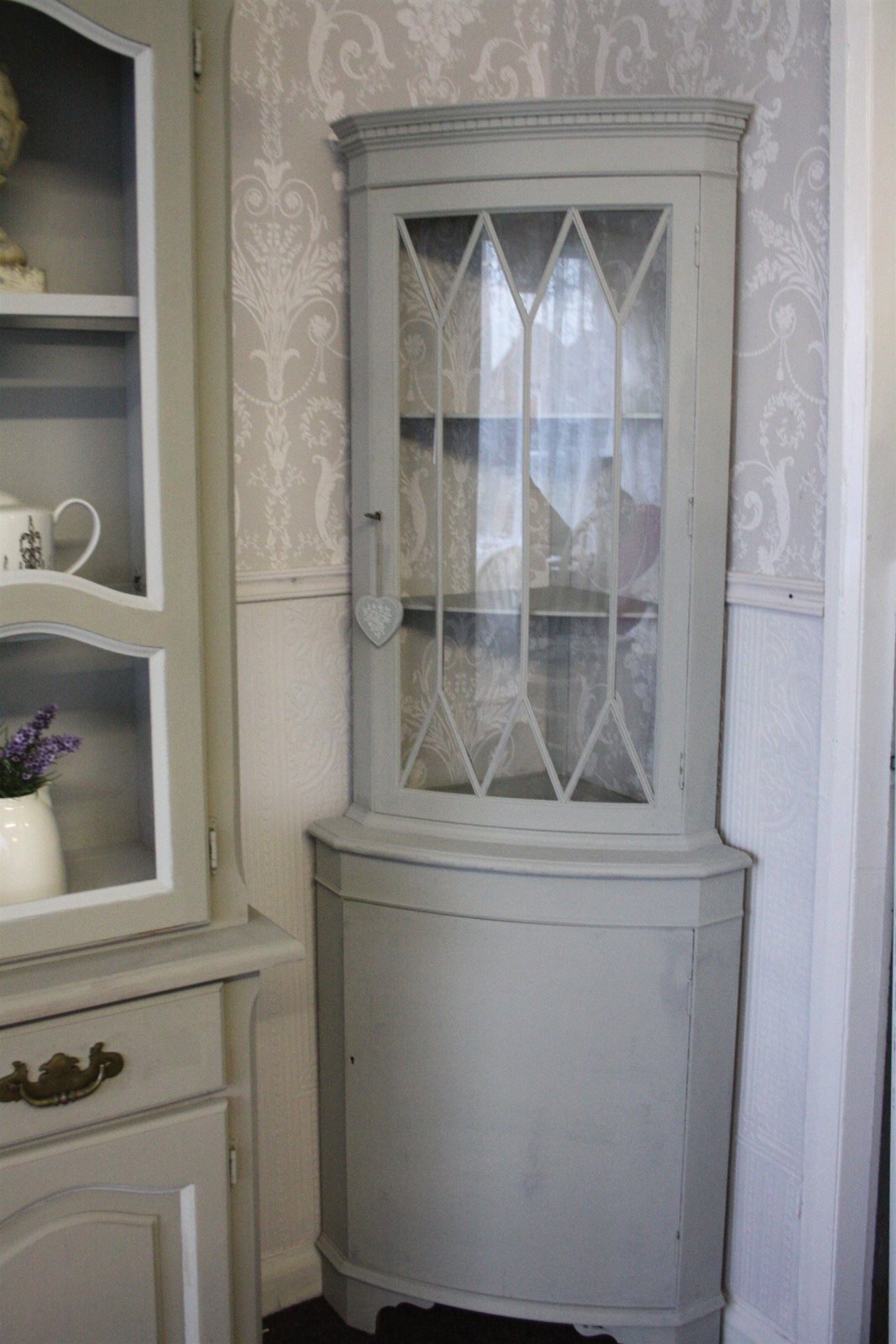 I also painted a rather dated repro corner unit and lined the inside with laura ashley wallpaper which looks so much fresher and prettier,and a nice useful piece of furniture as it takes up very little room in a small space but provides a nice place to showcase pretty knicknacks and also has good hidden storage in the bottom!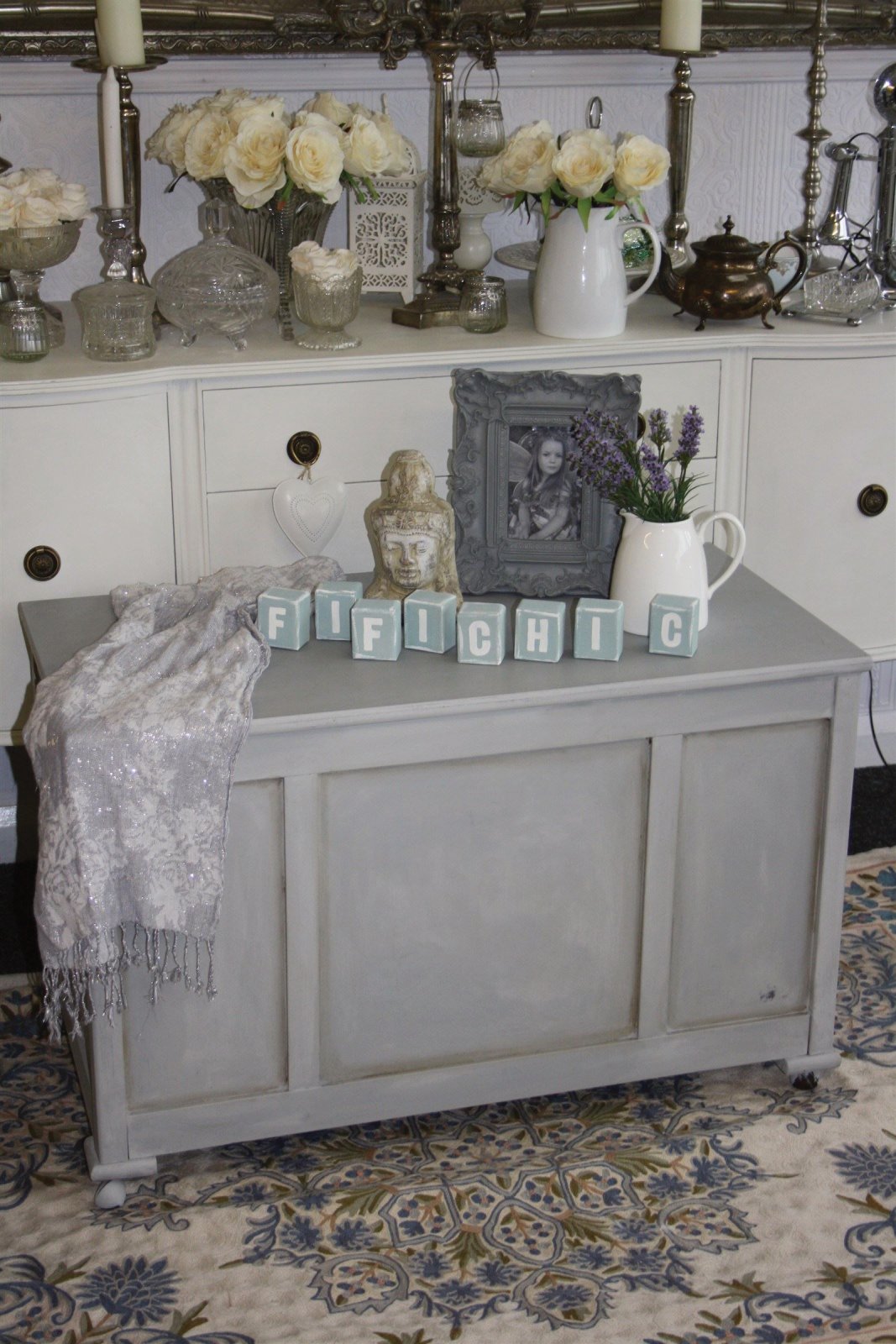 I also did this sweet little ottoman. I love them as they make great coffee tables,blanket boxes etc, i have one at the end of my bed and they are perfect places to keep pillows and spare bedding! I aged this with 2 types of wax to add character and protect the chalk paint.
Anyway, my husbands snoring on the sofa so I think i`d better get some dinner started!! Thanks for readingxFiFi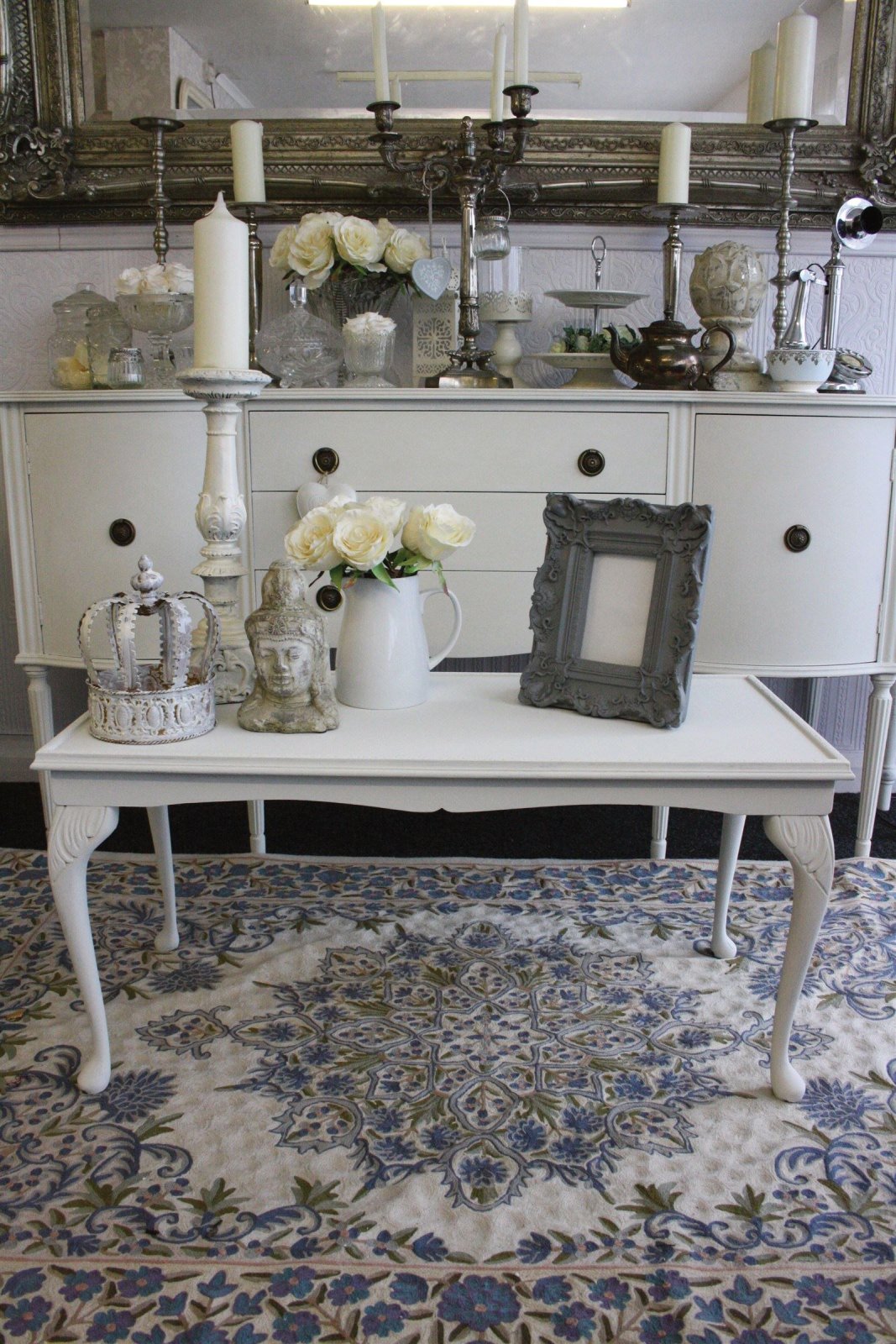 Well hi there, sorry its been a few days! I spent the last couple of days renovating furniture, sorting out the house and baking cupcakes for my daughters valentine cake stall at school!! I have spent the day today sorting out a sweet vintage coffee table that my husband bought ages ago..did i give him a hard time at the time?Possibly...But dont let him read this!! Anyway its got a good shape and looks nice painted in annie sloan `old white` which (as i mentioned on my fifichic facebook page)...yes I do use white too often but today i`m going to show you something in paris grey too!! Watch this space for more colours.. coming soon to FiFiChic!!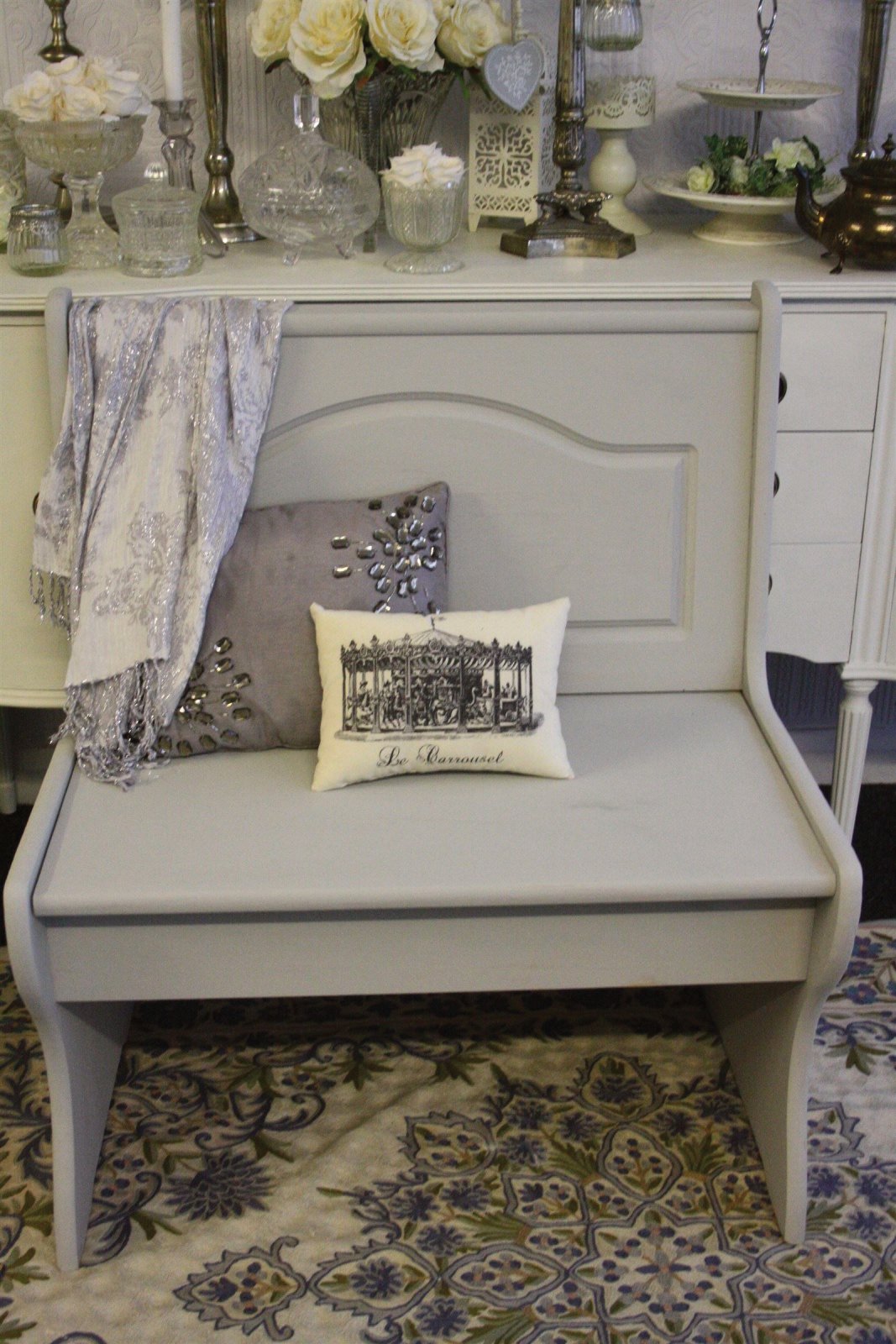 The bench/pew was varnished in a horrid orange colour reminisant of 80`s pine that everyone seemed to have in their home at one time..and yes you can still get it today!! The brilliant thing about annie sloan paint is that I didnt need to sand it first as it will key(stick!) straight over the varnish!
The paris grey looks a bit like a khaki colour as it goes on but once it dry its a lovely soft chalky light grey! Perfect!
Anyway i`m off to make a cup of tea as i havent stopped
today...children,husband,business,house,can we have it all ladies...? I think i`d rather someone gave it to me and let me spend my days looking at shoes but c`est la vie, its probably more character building having to work!!! Hehe!Thanks for listening xFiFi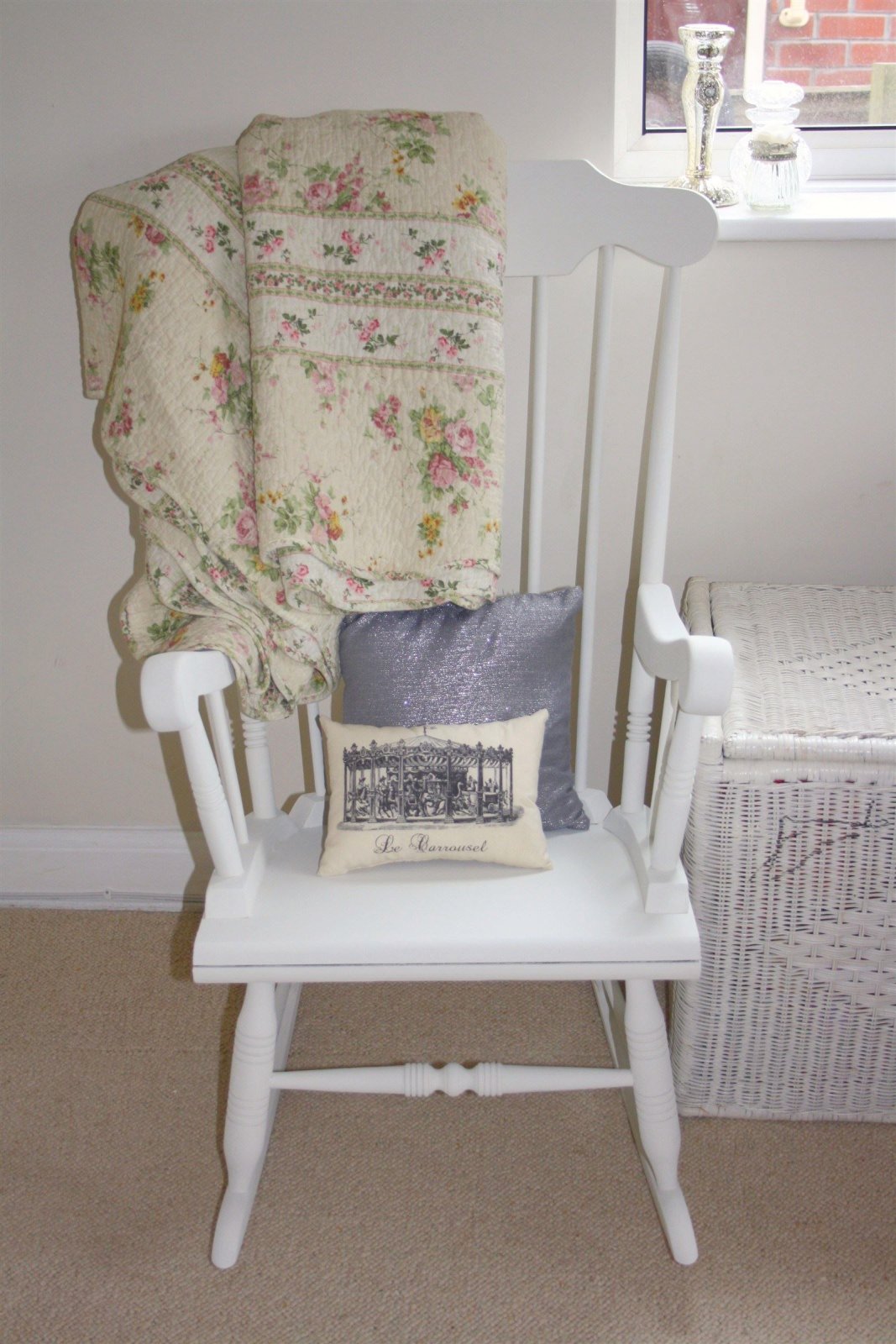 Its saturday and i`m having a lovely quiet morning with my daughter watching a film about fairys! We made a puff pastry pesto, goats cheese and feta tart and then tidied up the house, it`s so quiet with the boys out!!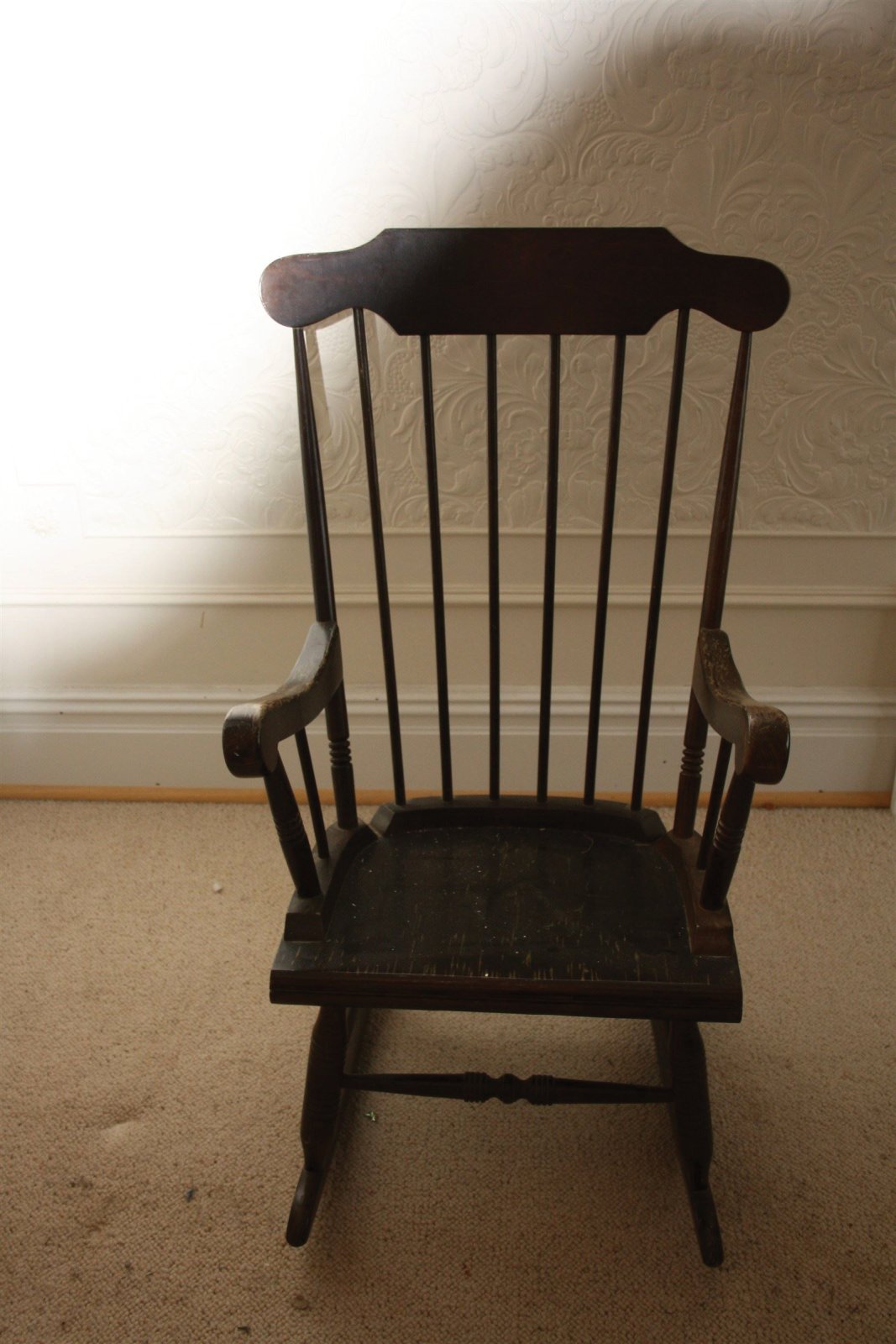 Yesterday I renovated a lovely old oak rocking chair, I love rocking chairs and i do think they look fabulous white too! They are not terribly expensive to get hold of but still not many people seem to have one so they always get noticed in the corner of a room, and its always great finding another reason for more cushions!!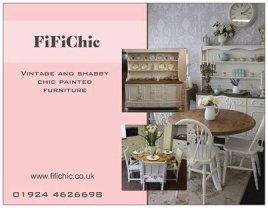 I recieved some flyers through the post yesterday that I have designed online to hand out at a vintage fair i`m doing soon with my 2 lovely  talented nieces Darecca and Krystal who both make things too. Anyway my daughter is waiting for me to make wooden heart hangings with her so i`d better go, thanks again for reading and i`d love any comments or pictures of things you have made, I always love meeting other people who make things or just get as excited as me about pretty things! Feel free to post yr comments/pictures at the bottom!xFiFi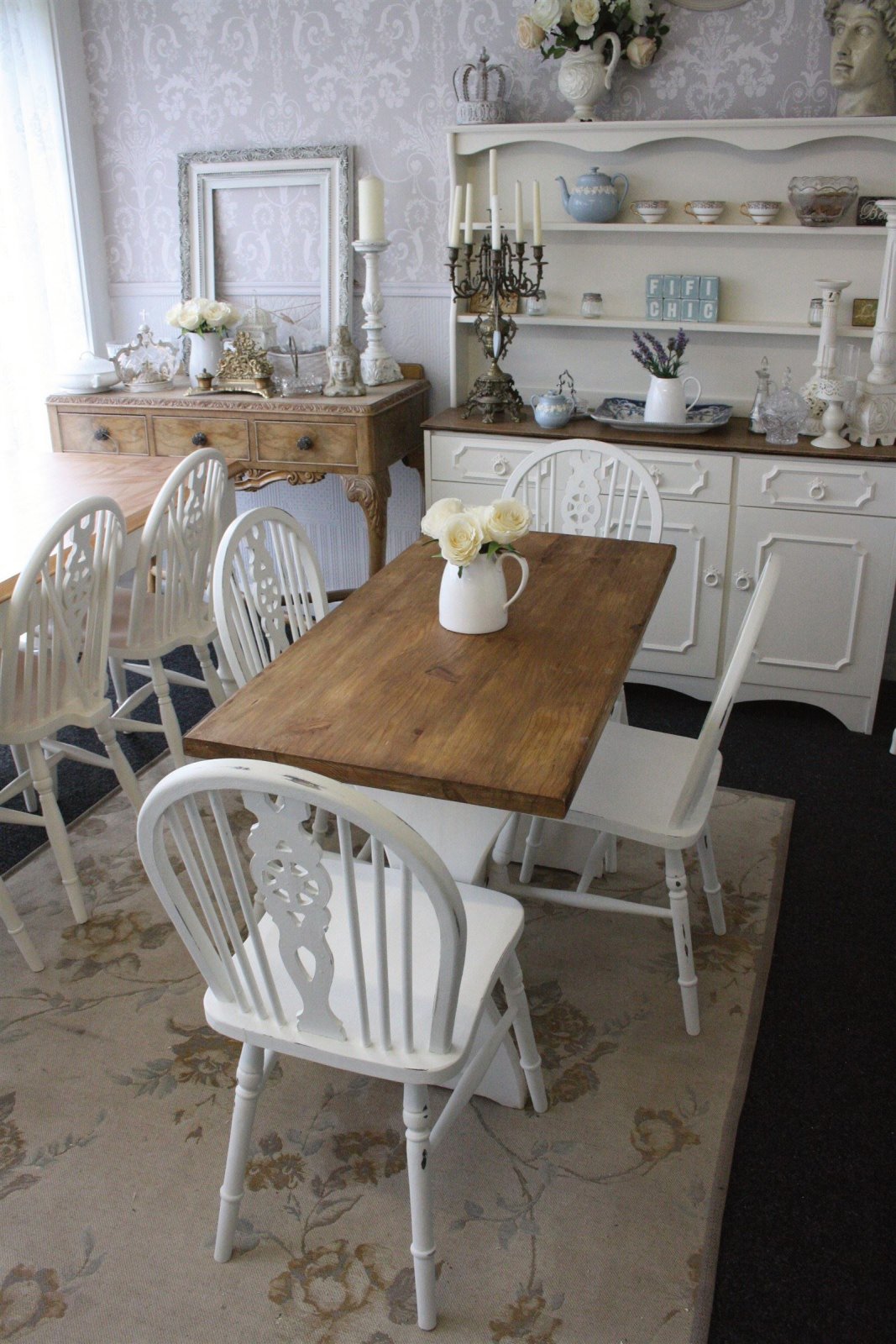 Hi, its been very hectic today, still juggling getting the house decorated, renovating furniture and the school run takes so much longer now which eats into the day! Am now just waiting for my courier to arrive and someone else is coming to collect a cute little furniture set so I thought i`d post a quick picture of the set I did today. Its a little refectory style table which i have done with 4 windsor chairs in annie sloan old white` which I distressed with wax. I stripped and stained the top with an oak wax as i thought it suited the table style. Anyway, kids to organise, thanks for reading!!xFiFi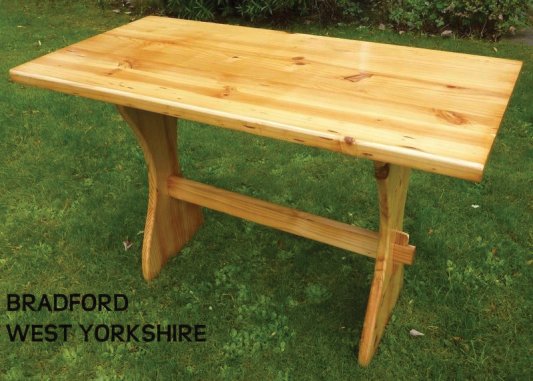 Its a nice way to distress as i think its closer to the look you would find in old naturally distressed furniture.The `shabby chic` look which has now been around for decades originally came from furniture etc that had become run down over the years and taken knocks and been patched up or repainted. Often found at its best in grand faded houses and chateaus where the paint had peeled over years and years after being painted different colours!

I have been following some great blogs recently with some of my favourites being `my shabby streamside studio` and the guru of shabby chic Rachel Ashwell is just so fabulous and has such style without trying too hard, i love the combination of grand, relaxed and shabby that she brings to her surroundings!

She has also made me a lovely shabby chic teapot decoration to hang on my candelabra!!

(£1.99 each or 3 for £5.00).

her ebay name is dollysnewworld if you want to check her out!

Sorry to plug her but I think she will go far!

Anyway the kids are home so

0

/