Shopping Basket
Your Basket is Empty
There was an error with PayPal
Click here to try again
Thank you for your business!
You should receive an order confirmation from Paypal shortly.
Exit Shopping Basket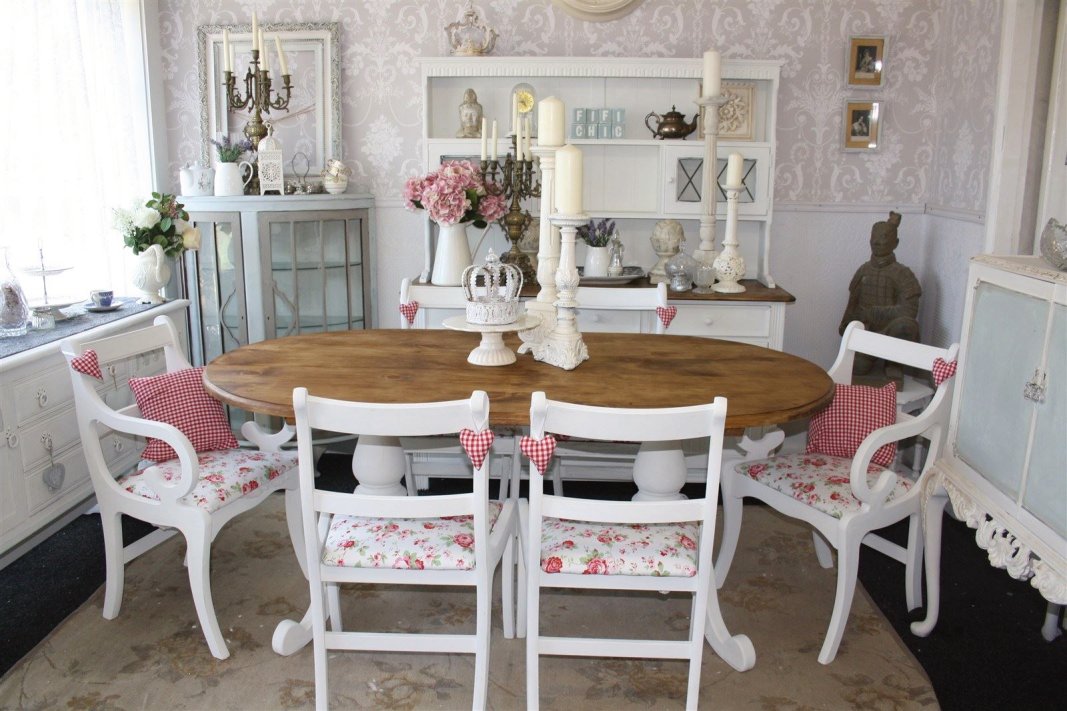 Well good evening all! Its nearly the weekend and I can`t tell you how tired I am this week!! Its been a tiring few months actually! The weather has been lovely though so I can`t complain too much!! I really do need an extra couple of days in each week, that way I could have a tidy house, cook, find time for getting better at photography and get some ironing done on top of the furniture renovations, who knows maybe I could even fit in a workout...though actually I do a lot of furniture wrestling- does that count?!!! I do find time for the kids at least- hehe, which is the most important bit!! Maybe I can teach them to tidy the house!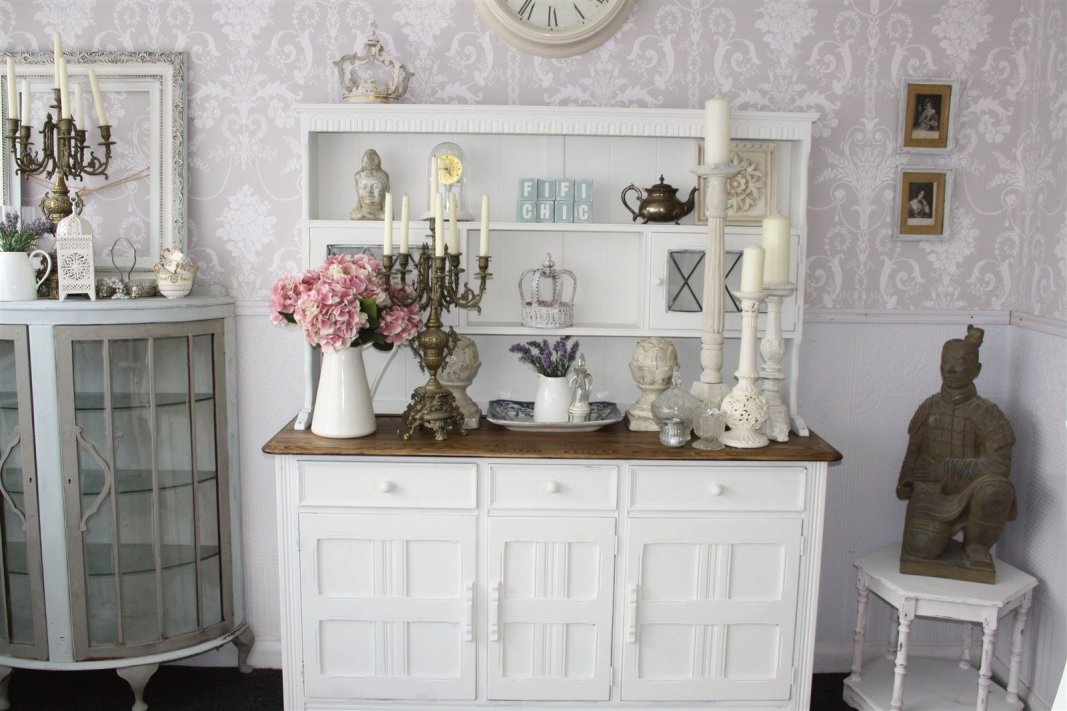 I sold my favourite gothic revival dresser which was the backdrop to my furniture pics so have been working on getting my shop set back up this week! Its mayhem, its so full of furniture waiting to be painted...I really need a big workshop shed but every time i`m about to get one some new biill seems to pop up...isn`t that always the way!!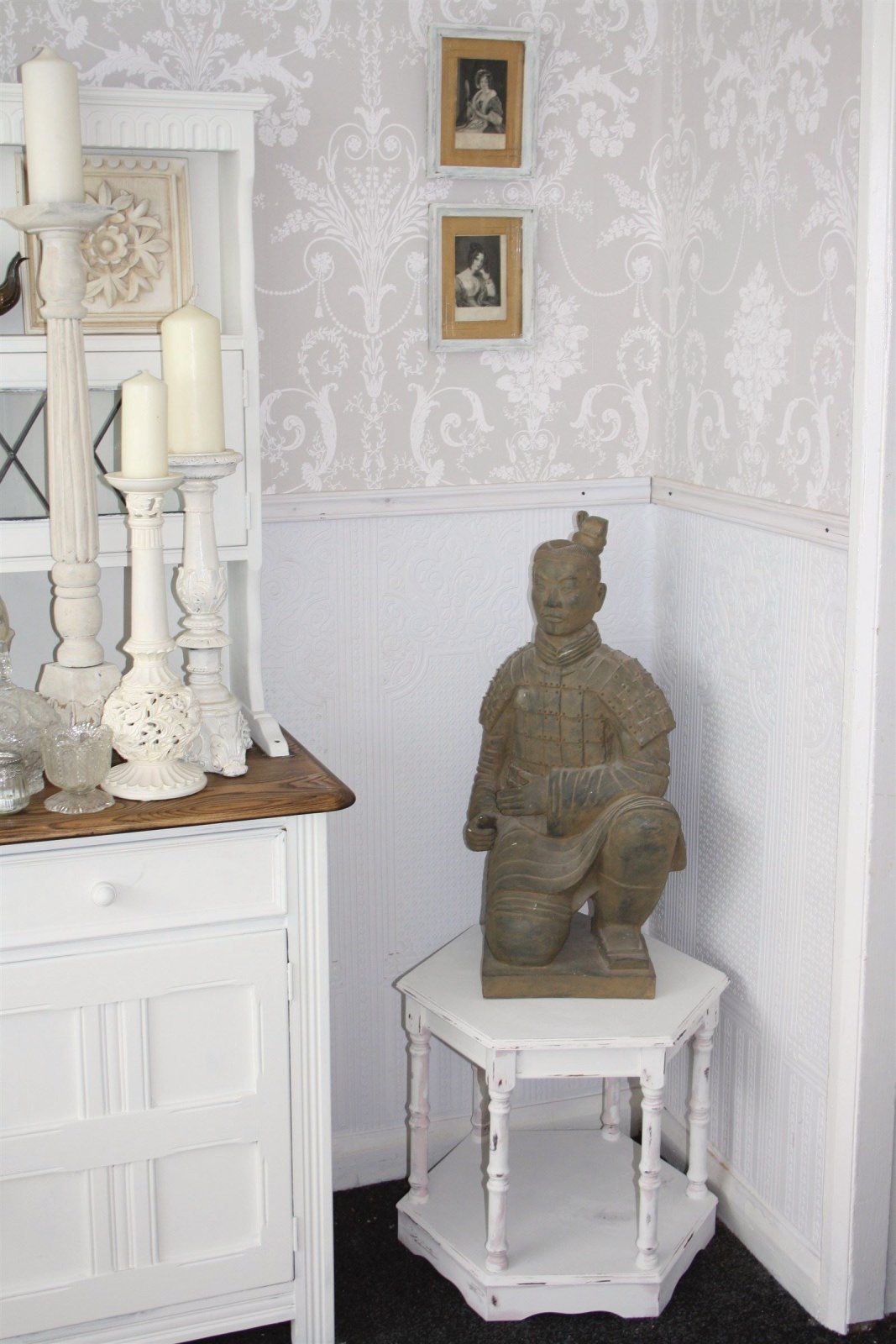 I have done my new shop dresser in annie sloan `old white` chalk paint as its a lovely neutral colour to live with and for a backdrop! I also renovated a  cute little hexagonal table in antoinette pink underneath old white with lots of distressing, it acts as a pedestal for my little warrior statue who I love!
   My Cath Kidston Rosali fabric sets seem to sell so fast that I have done another set, they have a pretty fresh Alice in wonderland quality which is fun, complete with hearts of course!
    Well my husband is putting the kids to bed now, so I`m going to put some Cheesy rock ballads on and cover some fabric seat pads...living `the dream`xFiFi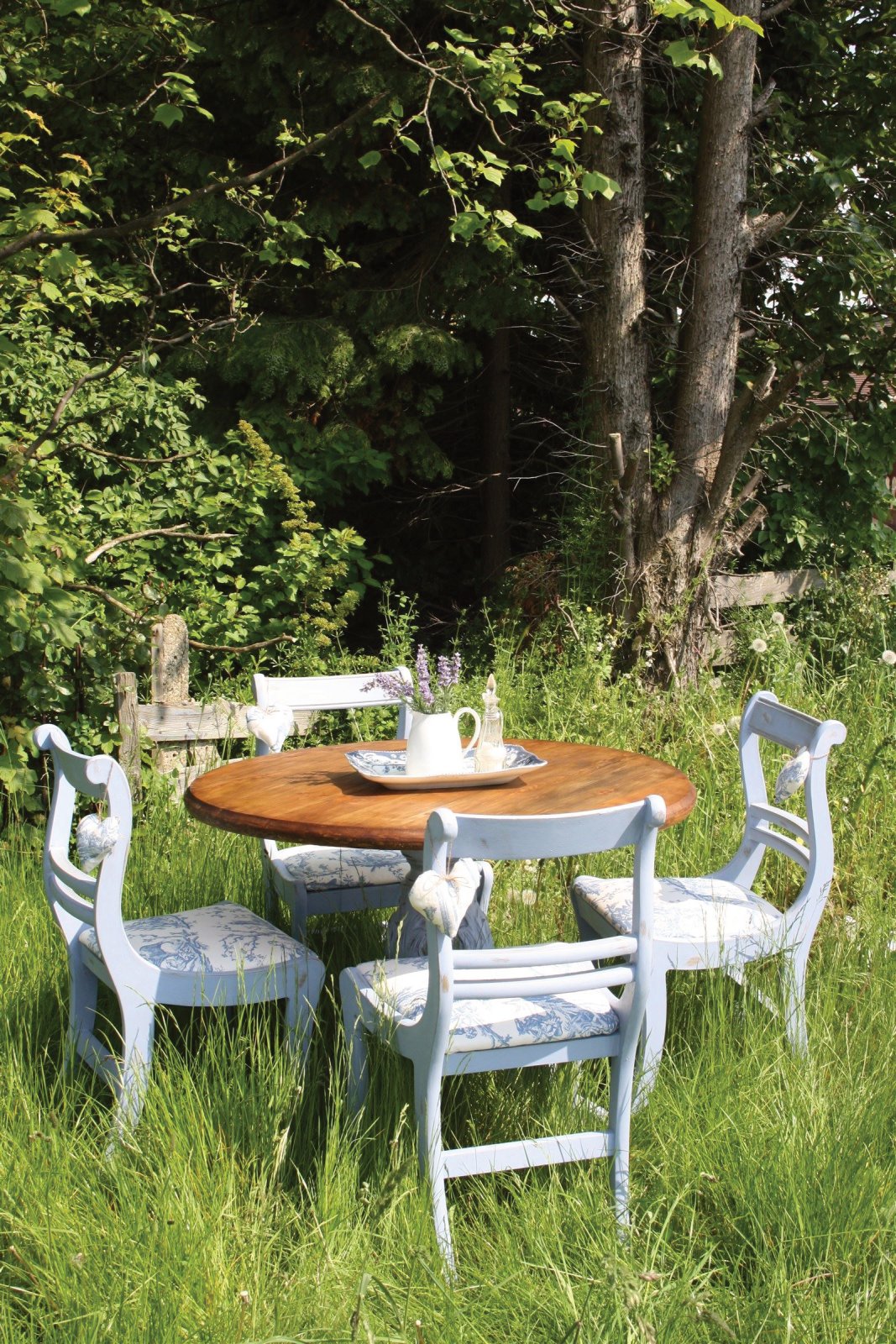 Well hello everyone...nice weather..actually feeling quite summery....Summery enough for an outside photo shoot no less!! Now the begginning of the week could have really killed my summer buzz...we had a problem with wasps this week, when i say `problem`, if you can remember the film `swarm` then you might get the general picture of what life has been like over here! My daughter had been off school sick and at one point we had to lock ourselves in the shop ...i`m embarrassed to say I did selotape the doorframes... and we had to call my husband to come and rescue us...2 days of hearing a bzzzzzing noise and trying to plug all the entry points to the house with filler etc and when we rang to get them dealt with we are told if they hadnt been there at least a week they woundnt have a nest to destroy yet so we would need to wait!!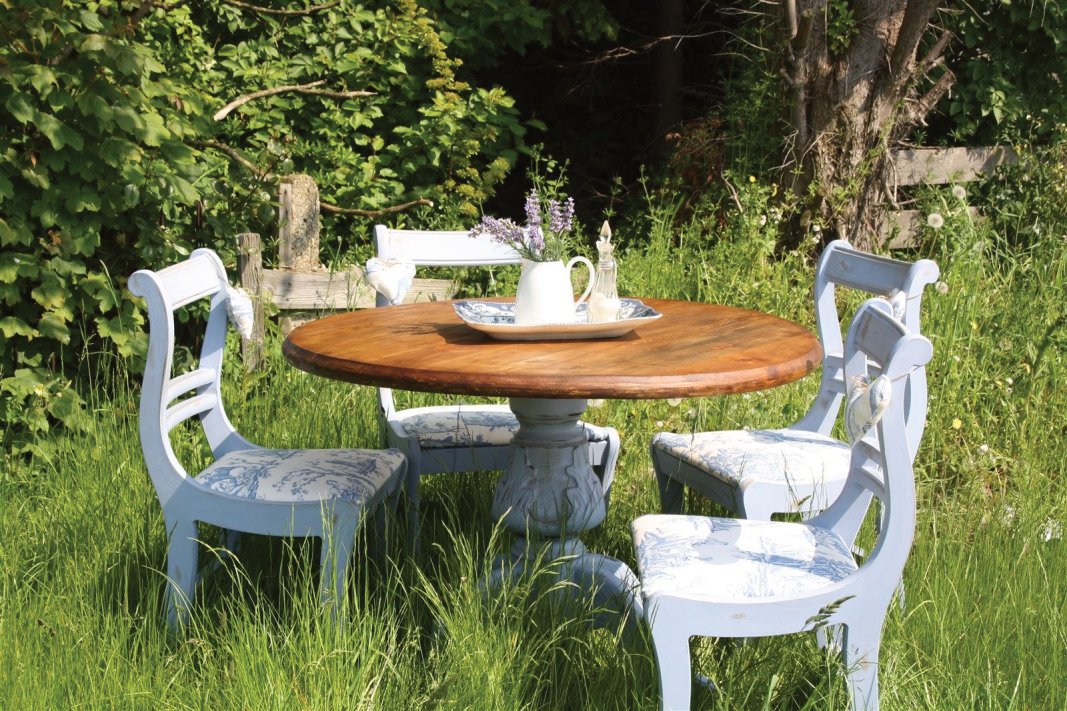 After wasps constantly getting into the house my husband made a gadget out of a hoover...some tubes and a jar of honey!!! So now we appear to be wasp free!! Clever husband!  Hence I`m feeling summery again and have taken back the garden!(which needs some serious work done!) I bought a new colour of annie sloan chalkpaint in Louis blue which I had been dying to try and its a really fun blue for summer, my daughter and husband where quite suprised when they saw me painting with it as i`m quite a fan of neutrals but I love this blue.. Its like a lovely strong country blue and it just had to be photograhed outside with the contrast of the green overgrown grass!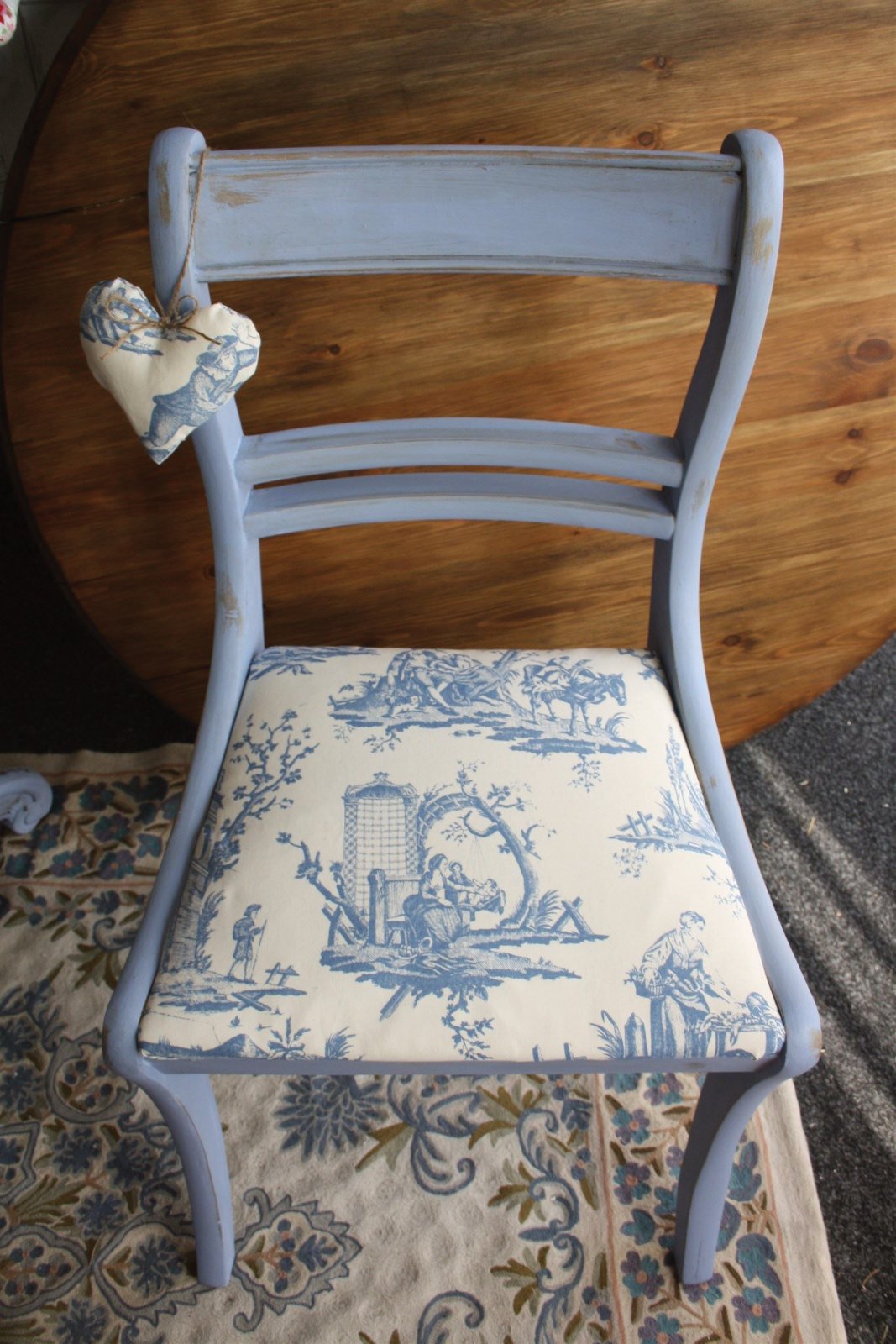 I covered the chairs in a pretty blue and cream toile and even made some hearts...i`m not much of a sower!! I think the blue is nice when its used with dark wax which ages and tones down the brightness and it looks great when distressed with the warmth of wood coming through from underneath, for the right kitchen i think a dresser and farmhouse table would look amazing in it and if I was feeling brave i`d probably put it in a room with something painted green for a contrast!
Anyway,the sun is out , the sky is blue and now theres no wasps to spoil the view hehe! Have a lovely summery weekend ...if theres no sun where you are....skip this post...get a video to watch and buy some chocolate, i`m sorry I mentioned the sunshine!! XFiFi
Hi there, i have decided to do some before and after pics for you today! I think we all love before and after pictures, the best form of inspiration and i`m having a lazy day today!
  I am putting on some before and after pictures of past renovations with Annie sloan chalk paint. I am also going to put down some of my thoughts on colours I use often (not necessarily in order with the pics!)as I have had quite a few questions about them recently-they are just my opinions and so do bear that in mind, if you want to know more about the chalk paint do go to annies website (anniesloan.com).
 I haven`t used all of the colour range yet ( I believe there are 30 and counting so far and will get through them eventually!) the number of shades you can get out of each individual colour is amazing! They can also be mixed to create new colours which i need to try more of- the inspiration from the stockists pictures is great to see what can be achieved! I particularly love the shades you can make with the `duck egg` mixed with old white, it can become such a delicate colour!
and it is suprisingly hard to find a really good grey for furniture, but this one `paris grey`is just so soft and perfect and excuse me for repeating myself but it covers so well, often 1 coat!
  `Old White` is just a fantastic `staple` white. I use it on its own all the time as white is so fresh, easy to live with and also very popular with my clients.
   I have plans for some more new colours to try soon! the `graphite` is fantastic and great fun for turning anything you can think of into a `chalkboard` my kids love it!!!
Anyway, its time to cook some dinner for tonight, I promise to be careful in the kitchens and wont jump off any worktops!!!XFiFi 
Good evening everyone!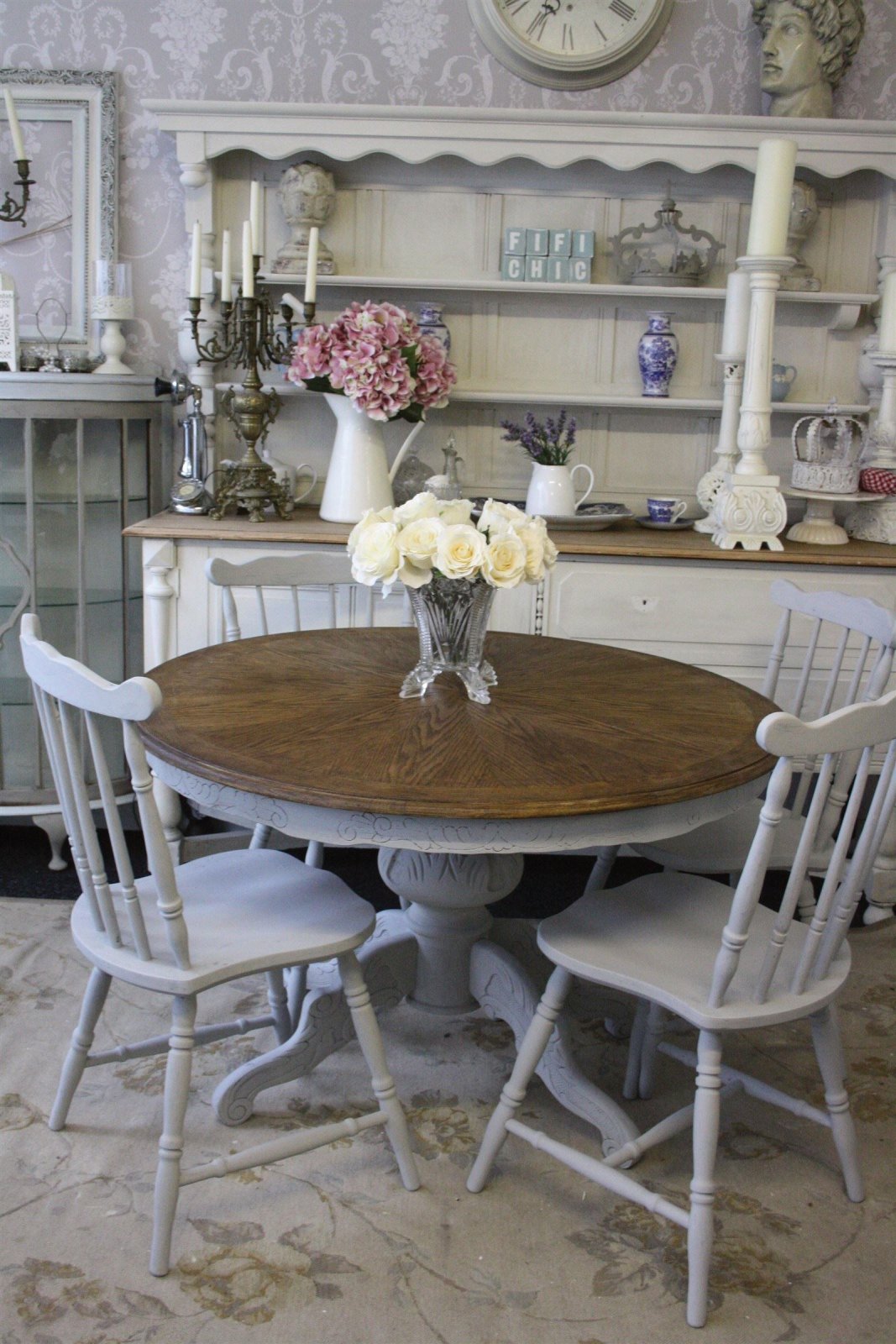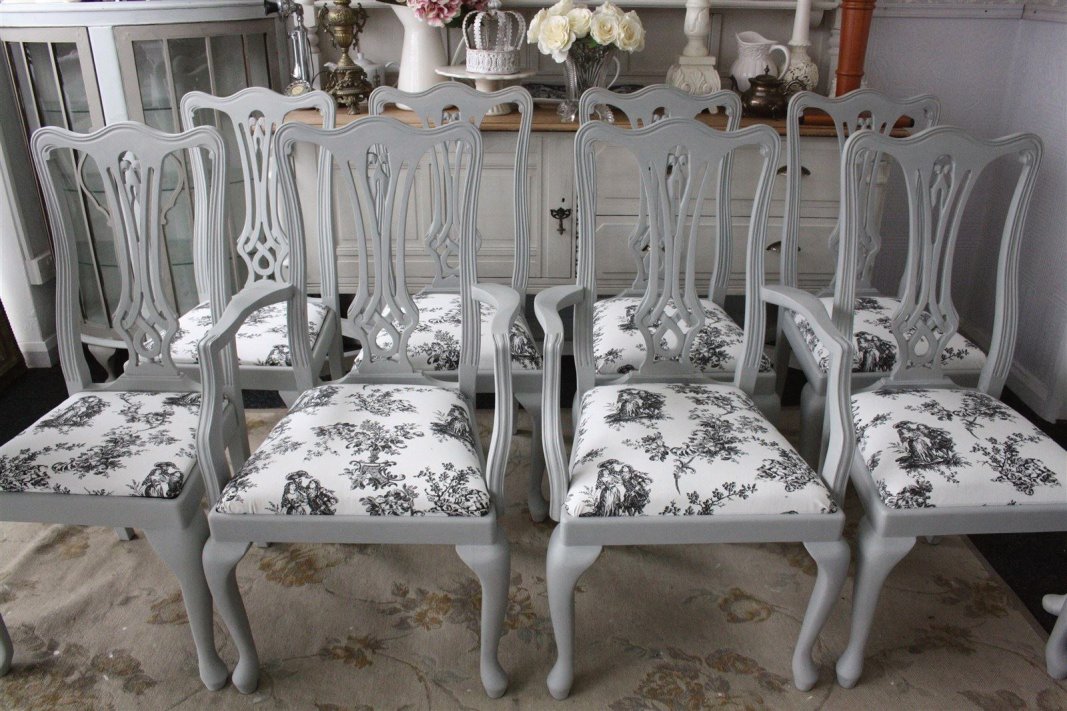 Its been a pretty stressful week ...and sometimes doesnt it just feel like you have the worse luck in the world, you really want to stamp your feet, sulk ,cry and throw some tantrums....then you manage to take a step back and realise that all the really important things are still ok in your life...amazingly your kids are really happy and very importantly -they`re well!... you still have a husband who loves you and everything else is really just a work in progress!!! So i`m not going to bore you with all the `other stuff` i`m sure one day i`ll look back on the last couple of years as character building...maybe not!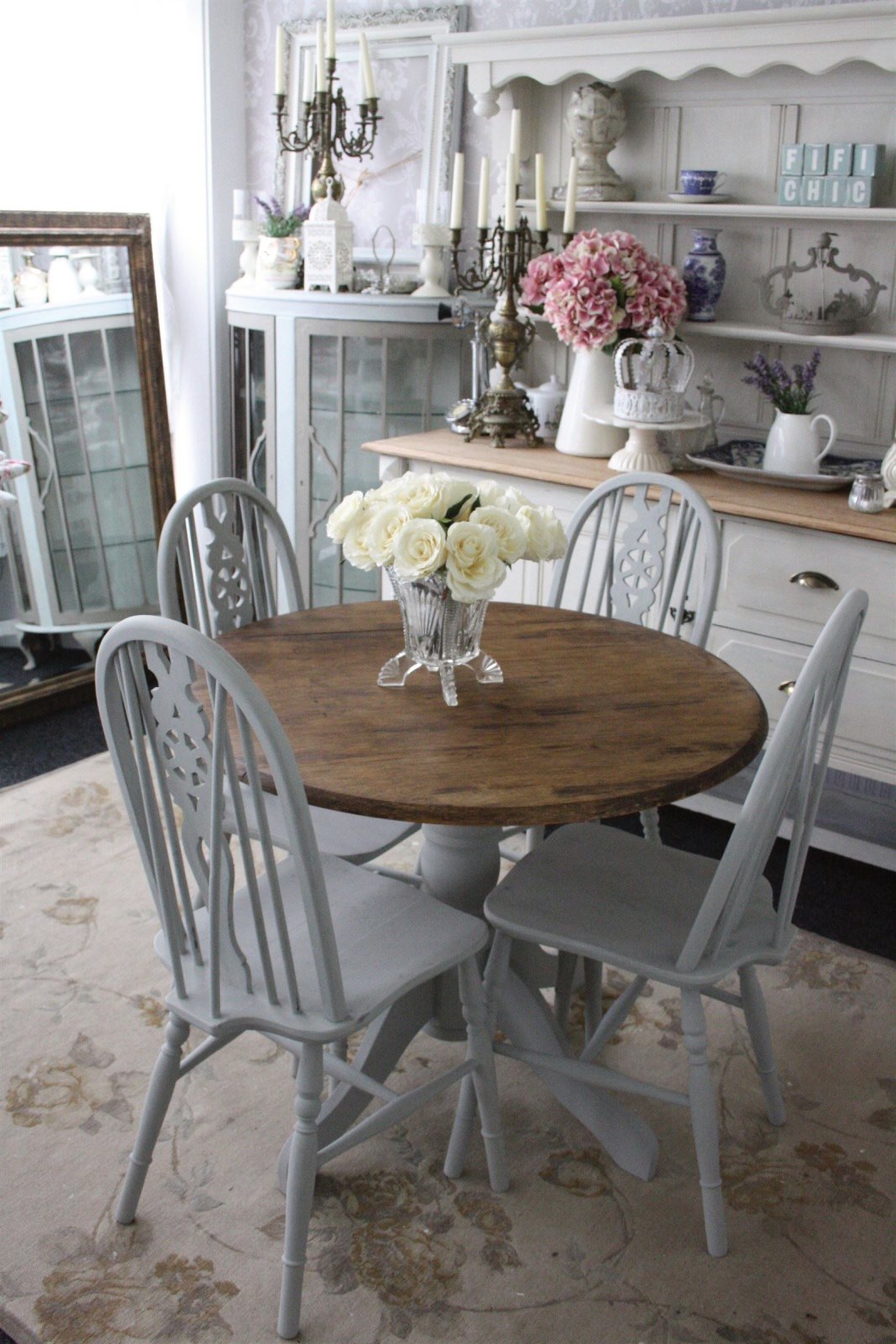 This week I have been going through a `paris grey` phase again! Its such a great colour, not too dark,it covers really well, sometimes one coat! It just makes everything look stylish and expensive, white sells better,but my favourite is the paris grey! Annie sloan describes it as the `the colour most associated with furniture in an elegant french chateau` I think that describes it perfectly! I have done a fabulous set of chippendale style ribbon chairs  in the grey with black and white toile,much nicer than any of the sets I have had for myself, but isnt that always the way! I have also done two cute little round sets with quirky vintage chairs.

Well its getting late so just a quick blog tonight! Do feel free to leave any comments,I was quite suprised to find out how many have been reading this on the counter...there is life out there!! Nearly the weekend...XFiFi

 

    Sunday evening.. on may bank holiday weekend, the kids are asleep and my husband is wrapping chairs for me... a usual evenings fun...such `rockstars` we are these days..! I have to say blogging is a great wind down in the evening!

I have decided to put some pics on of the `after` of my daughters bedroom! I have been waiting for it to be totally finished but alas...who knows when that will be so between us it is still a work in progress!! As I mentioned a while ago now.. we downsized from a manor house to a 3 bed...with a non existent budget to do my daughters `princess bedroom` and so I needed to recreate a look on a shoestring!

 

Its friday and i`m looking forward to a fun and probably very `silly` bank holiday weekend with my 2 kids and trying to think of some fun things to do!(occassionally we like to have a `pretend` christmas in the middle of may!!! And my 3 year old and I like to sit and watch youtube videos pretending we are on rides at disney...or waterpark shoots etc...you get the picture!!!)

This week I have fallen in love with my Annie sloan chalk paint all over again! As you will know if you have been following me I have been trying out a new `autentico` chalkpaint and I had bought a fantastically shaped french style armoire/cabinet which I was determined to do justice to -as pieces like it just dont come up to renovate in my price range that often!!

Anyway, have a fantastic weekend wherever you are and do feel free to tell me about your chalkpaint addictions...I hear talking about it helps!!..XFiFi

0

/